Did summer seem to sneak up on you? I know it comes every year, but I feel like without enough notice my girls were out of school, my team members were requesting vacation, and my expansion activities were on pause.
I know I am not alone.
Has this ever happened to you? Here's what these past two weeks have taught me: (1) it IS possible to bounce back from lack of a baby-sitter and (2) believe it or not — I can survive my assistant being on vacation. However, I've discovered that when it comes to ministry (and business) it is very difficult to bounce-back from a lack of seed-sowing and watering during the summer months.
You simply can't afford to NOT market your ministry during the summer months.
Last week, I spoke to three Pastors who said about their ministries "we're going through the summer slump". I even had one business client share "I'm taking it easy during the summer it's always been a slow season for me." WHAT? That just didn't add up for me. When it's slow that's when you sow!
If every year the summer slump comes around, don't you agree it's time we do something about it? Me too. I would be the first to admit that I can stand to incorporate more downtime in my life and business, but shutting down in the name of the "summer slump" is NOT an option.
Instead I have chosen to view the summer months as a time to:
Refuel and re-tool– Have you found it difficult during "peak" seasons of ministry to sharpen your skills and learn new strategies? Many ministry leaders find it tough when in the trenches to learn new techniques for growing their ministry. Summer is a great time to take an online class, attend a workshop, or read a few ministry growth books. Be sure your study time is not in vain. With each new piece of information learned make a goal to jot down at least ONE thing you are going to do implement right away. I call this technique "putting my knowledge to work".
Establish new relationships – I have a close girlfriend who often reminds me that she has come to a point in her life where she has no more room for "new friends". While I chuckle each time she says this I realize this is often the sentiment of many Pastors and leaders. I've had many leaders share that they are too busy to nurture their current relationships so how can they afford to engage in any new ones. My response is always, "you can't afford not to". Multiplication is the only guaranteed way to make a profound impact with your ministry. You can't multiply if you don't reach outside of your circle and make new connections. Make a goal this summer to make at least one new relationship that has the potential to further the impact of your ministry.
Get out and check out – I am committed to the ministry I am called to perform. Most Christian leaders are. However, if we're not careful our commitment to our own ministries can cause us to become overly critical of others or worse to ignore them all together. I like to encourage my clients to "check out" another ministry's activities not for the sake of comparison (nor to spark unnecessary competition) but to offer perspective and insight. In many instances, there lies great opportunity for collaboration among ministry leaders. If we are to grow our ministries we must make time to get from behind our walls and dare venture to visit another's.
Too many Pastors and leaders struggle through the summer months when they don't have to. I've decided to host a FR*EE webinar that will help Christian leaders look forward to doing ministry in the summer.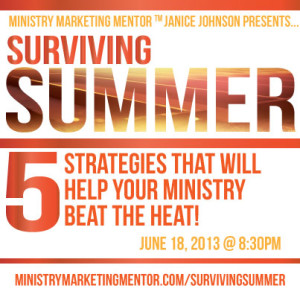 If you are seriously sick of the "summer slump" then reserve your spot TODAY for my upcoming webinar "Surviving Summer: 5 Easy Strategies That Will Help Your Ministry Beat the Heat"
Together, let's make this summer unlike any other your ministry has experienced thus far—it's time to dump the "summer slump".